United Campus Workers, the union for Tennessee college and university employees, is asking for those campuses to move to online classes and provide hazard pay for frontline employees.
UCW is also asking for the state government to use rainy day funds to help cover any budget shortfalls caused by the pandemic, members of the group said during a press conference on Thursday.
If budget cuts are necessary, UCW is also asking universities to protect employees making less than $50,000 a year from pay cuts. Instead, the group wants the highest-paid administrators to take voluntary pay cuts.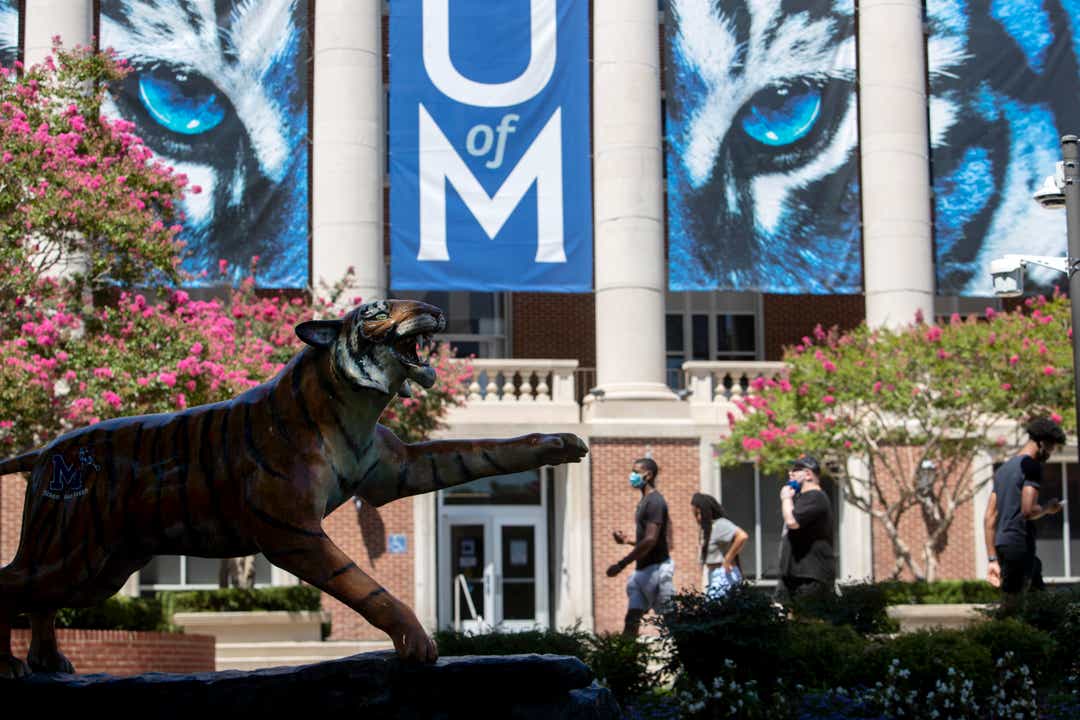 Javaris Blakely, a custodial employee at the University of Memphis, said he has felt endangered while working on campus during the pandemic.
"It's not safe," Blakely said. "We have people on campus who aren't supposed to be on campus, we have folks walking around with no masks on," he said.
Blakely said he had to buy his own masks to wear on campus.
"We just want somebody to care, and we want somebody to watch out for us," he said.
Tom Anderson, a facilities services employee at the University of Tennessee at Knoxville, said he has concerns about what students are doing outside of the classroom.
"I know how hard they've worked to try to keep the classrooms safe," Anderson said. "But you can't control the other 18, 19 hours in the day."
For universities to think they can control the spread of COVID-19 is "naive, to be frank," Anderson said.
'We cannot ignore the science'
State Rep. Gloria Johnson, D-Knoxville, offered her support to UCW.
"We all want to reopen, but we cannot ignore the science," Johnson said. "We have to do it safely because lives depend on it."
Johnson also called on universities and Gov. Bill Lee to set metrics for when universities should close down.
"I have great concern, not only for the families of those who work and attend the university, but also for the community," Johnson said.
At Tennessee Tech University in Cookeville, associate professor Troy Smith said there hasn't been much clarity about how to enforce the COVID-19 guidelines.
"Even though there are a lot of safety concerns being addressed on the surface, there doesn't seem to be any will to enforce any of those things," Smith said. "A lot of the faculty are unsure how they're supposed to be enforced."
More clarity and transparency about case counts are needed, Smith said.
Case counts
As of Thursday, there are 144 active COVID-19 cases at UT Knoxville. Of those, 137 are students and seven are employees. There are also 690 people in self-isolation.
UT Knoxville is offering approximately 54% of its fall classes fully online, 31% in a hybrid format, with some face-to-face learning and some online learning, and 15% of classes with fully in-person instruction.
About 75% of students have at least half of their classes completely online, UT Knoxville Chancellor Donde Plowman said on Wednesday.
"We all share a commitment to wanting to keep our campus, and broader community, healthy," UT Knoxville spokesperson Tyra Haag said. "We made a commitment to be creative, compassionate and flexible with our employees and with our students and will continue to lead our campus with those principles in mind."
The University of Memphis has 19 cases of COVID-19 among employees and 75 cases among students as of Aug. 20. Classes there will be offered mainly virtually until Sept. 17, but some students are living on campus.
As of Aug. 27, Tennessee Tech had 42 active cases of COVID-19. Of those, 37 are students living off campus, two are students living on campus, and three are employees. Classes at Tennessee Tech began on Aug. 24, with in-person and virtual classes offered.
The University of Memphis and Tennessee Tech did not respond to requests for comments.
Over 250 UT faculty and staff ask to go online
In early August, UT Knoxville theater professor Jed Diamond, the American Association of University Professors (AAUP) and United Campus Workers Knoxville chapters sent a letter to Knox County Health Department Director Martha Buchanan, pushing for online classes. The letter was also sent to Plowman.
The letter asked Buchanan and the Knox County Health Department to strongly recommend UT move to online instruction for some or all of the fall semester, or until the infection rate in the county is "under sufficient control."
The letter was signed by over 250 faculty, staff, alumni and students by Aug. 14.
AAUP chapter president Monica Black, who is a history professor at UT, told Knox News Buchanan acknowledged the letter but has yet to respond to the request.
Charity Menefee, the health department's director of emergency preparedness, told Knox News on Tuesday recommendations of that nature are the responsibility of the Board of Health, which sets policy for the pandemic response. The letter, she said, was shared with the Board of Health.
UT spokesperson Haag confirmed that Plowman received a copy of the letter addressed to Buchanan. "We appreciate members of the AAUP forwarding a courtesy copy of the letter to the Chancellor after they sent it to the Knox County Board of Health," Haag said in a written response.
tinyurlis.gdu.nuclck.ruulvis.netshrtco.detny.im